Parent-Teacher Connect
An easy to use, web-based parent-teacher conference scheduling program

Click here to demo the program. Sign in as an administrator, teacher, or a parent
Schools want a no-hassle, easy way to get conferences scheduled. Parents want to sign up for conferences, for all their children, quickly. Teachers don't want to be involved in this process at all, they want to focus on their classroom.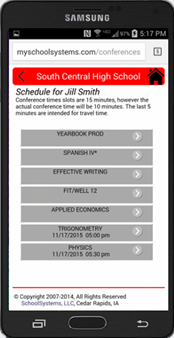 Our on-line parent-teacher conference program has increased conference attendance. Parents love the simple interface, administrators love the simple setup and have praised the un-paralleled customer support.
Parent-Teacher Connect
Reduces your staff's workload
Organizes your conferences
Eliminates paper schedules, mailings, and phone calls
Gives parents 24/7 access to schedule parent teacher conferences
Uses a secure username/password log-in
Is hosted on a secure server offering 256-bit encryption
All data is backed up
Benefits for Teachers/Administration
Block out unavailable times
See who has/has not signed up yet
Request a conference with a parent
View/print student and teacher schedules
Computes statistics on conference attendance
Interfaces with your favorite database or spreadsheet including PowerSchool, JMC, and Infinite Campus
Benefits for Parents
Schedule a time with any teacher their child sees, including specials
Have access 24 hours a day from their home or office
Screens optimized for Mobile devices for parents 'on the go'
View and change their schedule without calling the school office
Pages can be shown in English or Spanish
Receive an email reminder when conference appointment is getting close
Lose the paper. Simplify and Organize your school office. Contact SchoolSystems today!
Ph: (319) 560-1336 ~ Email: info@mySchoolSystems.com